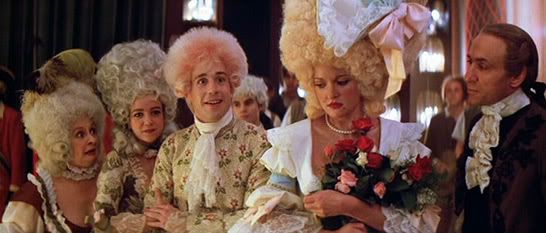 I'd been dying (somewhat) to know what the Village Light Opera Group's next G&S opera would be, ostensibly to find out if there would be (in the best Christine Ebersole-as-Caterina Cavalieri-in-
Amadeus
-style) a part for
meeee
--having so recently performed Pooh-Bah with them in their last
Mikado--
and I have not been disappointed;
Pinafore
it is. How nice it would be to sing Bill Bobstay again, that lowest of low (range-wise, mind you) comprimario sailors upon the
Pinafore
....wait...what is this???
Starship
Pinafore?!?!
Will I be making my return to the G&S stage in prosthetic ears? Watch this space; live long and prosper (?).
Meanwhile, on Planet Earth, I attended a New York Chamber Players concert last night, which was held at an immense church in the UWS eerily reminiscent of the sanctuary where post-nuclear apocalypse mankind worshiped the atom bomb in
Return to the Planet of the Apes
(again with the SciFi?).
I did not attend free of ulterior motives: My friend Bryn Jimenez was singing two arias on the program and I was terribly curious to find out how dramatic-soprano-Bryn would stack up to my memories of free-wheeling-mezzo-Bryn, which was who she was when I last heard her sing. This kind of a willful fach-reassignment surgery will always be curious to me, as I have always been a bass and become more and more bass-like as each moment passes...
The verdict is good: in two selections (C. Floyd and Menotti), she exhibited a plummy, direct lower range (put to good use dramatically in the Menotti), a secure, at times, thrilling upper extension (an utter necessity in the Floyd) and
pianissimi
for
days
(always nice in any case). Time's flight is
not
stealing your youth, honey.
There were two other vocalists on the program, one who masterfully handled a group of sprawling Berg songs and another whose performance was decidedly less...
..felicitous
than the aforementioned performers. It seems to me a deliberate provocation to sing something like "I Got Rhythm" when one is...
perhaps
...not in....possession,
really
....of....the secondary subject.....(that being,"rhythm").....of........the song.
There; I said it.
Today is my first staging rehearsal for
Ballo
. My assassination weapon of choice? A messily annotated score...